Powder injection mouldingBE
Plastic components have been produced by injection moldingAE for years. Therefore the complexity of the components have increased steadily. Through the development of special processes, such as the multi-component injection molding, but also the micro-injection molding, completely new possibilities of plastics processing result are possible. In addition to plastics, since years the powder injection moulding of metallic and ceramic materials are now well established. With this procedure complex components can be made out of metal and ceramic far cheaper than by using other production possibilities.

The powder injection molding is divided into four production steps: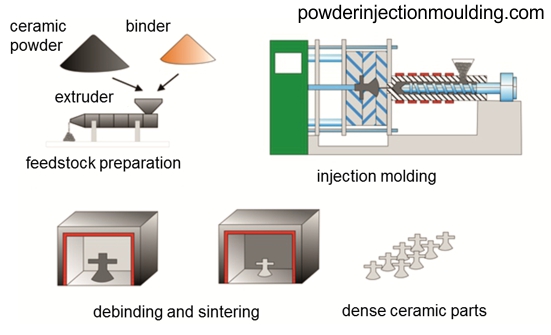 First, through a combination of plastic, wax and metal or ceramic powder a material is generated which can be processed by injection moulding. This material is generally named - feedstock - . By custom machine and tool technology, this feedstock can be injected, similar to plastic injection molding. The moulded part is so-called green part. The next step is the release of the plastic and wax component by the debindering process. The result is called brown part. The last step is the sintering of the brown part. In this process the individual particles are merged together, the brown part shrinks and becomes an compact component. This sintering shrink depends on the proportion of powder in the feedstock: normally between 20% and 30%. This final component has similar properties to the base material.

If you have further questions on the powder injection have a look at our other explanations. If you have specific project ideas please contact us. We will try to clarify your questions or give you an appropriate contact person to you.